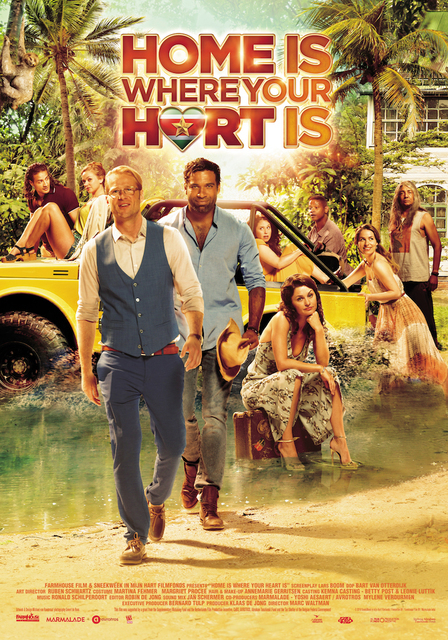 Home is where your heart is
"The grass is greener on the other side"
'Home is where your heart is' is an ensemble "romcom drama" that takes place in Suriname and playfully interacts with multicultural contradictions in the Dutch language.
Axel is a "boeroe", a white Surinamer who was born in Suriname but lives in The Netherlands for almost 20 years now, and is fully Dutchified with all its Dutch traditions. He is married to the Dutch Victoria and hasn't been back to his homeland since he moved to The Netherlands. When his free-spirited mother Gladys calls the family together for Christmas, because she has something important to tell, Alex relunctantly returns back to Suriname with his wife and her sister Mirna. Before the Chrismas dinner has even begun, the situation at the dinner table explodes between Axel and his brother Virgil when Virgil tells something which drives Axel crazy. On top of that, Axel's daughter Wonnie, who is running an internship in Suriname, confesses that she is pregnant…
The independent and strong Surinam mom Gladys, runs a guesthouse with the support of her all time friend Giovanca. Gladys has five children: Axel, Virgil, Aponi, Catharina and Surya. All with different dads…
This is the start of a rollercoaster under the Surinamese sun. Victoria starts to realize why she fell in love with a Surinamese man…. Wonnie goes looking for the father of her unborn child and is helped by Mariona, which she thinks is her cousin…
Mirna tries to introduce dieting to Surinamese women to help them with their obesity and Shirley and Michael find out that one is homesick for The Netherlands and the other is completely addicted to Suriname.
Producer: Farmhouse Film
Co-producer: Yoshi Aesaert (Marmalade)
Director: Marc Waltman
Scenario: Lars Boom
Distributor: Dutch FilmWorks
poster (JPG)
download