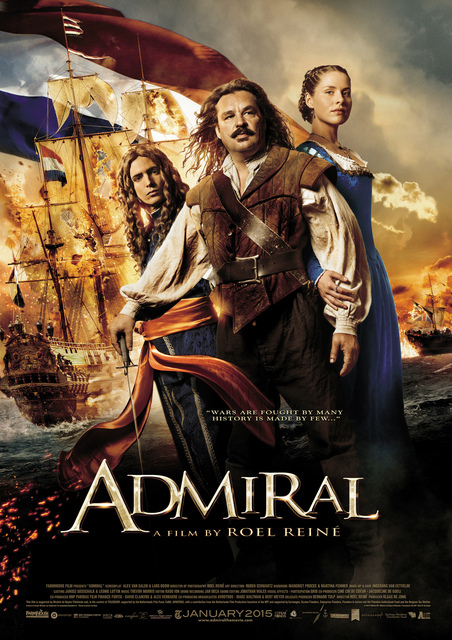 Admiral
"Wars are fought by many
History is made by few"
Holland is the first republic in Europe. The royalist Orangists seek to put the young, unfit and alleged homosexual William III ('King Billy') on the throne, bringing the country to the verge of civil war. Michiel de Ruyter, a stubborn Republican, has to save the country from English threats as Commander of the Dutch fleet. He accomplishes this mission in two naval battles and in a spectacular and innovative way.
Meanwhile, behind the Republicans' back, the Orangists are trying to strike a deal between the English King Charles II and the uncle of William III's. The Republicans realize they have to take action to strengthen their political position. They come up with a daring plan. Michiel de Ruyter has to sail up the Thames, and attack and burn England's fleet by surprise. The plan is a success, turning Michiel de Ruyter into the biggest living hero in Dutch history! England promptly signs a peace treaty with the Dutch Republic. But, the house of Orange is back in power soon…
Producer: Farmhouse Film
Director: Roel Reiné
Scenario: Alex van Galen / Lars Boom
Klaas de Jong: "I am very honored to have Roel Reiné as Director on board of our team. With his US experience he is the right man for this spectacular film."
The Dutch Roel Reiné, who moved to Los Angeles in 2005, works non-stop as a director for major studios and independent producers. His films are mainly highly driven action, such as "Scorpion King: Battle for redemption" with Ron Perlman and Billy Zane, "Death Race 2" with Sean Bean and Ving Rhames and "The Lost Tribe" are known for extremely high production value despite its modest budgets.
Roel Reiné made his first Dutch movie "The Delivery" in 2000. With this action road-movie, Reine started a new era in Dutch Cinema by making mainstream English language movies. "The Delivery" became a commercial success. Reiné won The Golden Calf for Best Director (the Dutch equivalent to an Academy Award) and the film was nominated for Best Picture.
Roel Reine just finished the western: 'Dead in Tombstone' for Universal Studios, starring Danny Trejo (Machette).
More information about Roel Reiné at www.roelreine.com
poster (JPG)
download